Discover the Cool Things a Dog Park Has for Your Furry Friend
Are you looking for a fun and healthy activity for your furry friend? Look no further than your local dog park! These specially-designed areas offer dogs the chance to run, play, and socialize with other dogs in a safe and controlled environment.
What is a Dog Park?
At its simplest, a dog park is a fenced-in area where dogs can run off-leash and play with other dogs. Most dog parks include amenities such as benches, water fountains, and waste disposal stations to make the experience more enjoyable for both dogs and their owners. This takes another level the concept behind a dog park. From spaces for dogs, nowadays, anyone can enjoy a park where humans and dogs get together.
The idea of the dog park is relatively new. The first dog park opened in Berkeley, California in 1979. Since then, these spaces have become increasingly popular across the United States and around the world, providing dogs and their owners with a unique and valuable experience.
The largest dog park in the world, to this day, is Richmond Park in London. Its size is over 2,000 acres with a forest to let the doggies play!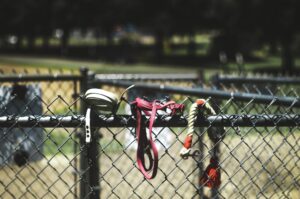 Did You Know That There Are Types of Parks?
Yes! There are many different types of dog parks, each with its features and benefits. Public dog parks are the most common type, open to all dogs and their owners free of charge. Private dog parks are usually part of a larger pet-related business, such as a boarding kennel or doggy daycare. These may require a membership or a fee to use.
Finally, some dog parks are part of larger public parks or recreation areas, providing dogs and their owners with additional amenities such as hiking trails and picnic areas.
But, regardless of the type of dog park, it's important to do your research and choose a park that fits your dog's needs and temperament. For example, if your dog is shy or easily overwhelmed, you may want to look for a smaller, less crowded dog park.
Etiquette for Doggos in Dog Parks
Visiting a dog park is a great opportunity for them to socialize and play, but it's important to follow certain rules to ensure a safe and enjoyable experience for everyone. Here are a few key points to keep in mind:
Always clean up after your dog. Most dog parks provide waste disposal stations, so be sure to bring bags and dispose of them properly.
Keep a close eye on your dog. Even in a controlled environment, it's important to supervise your dog and prevent any potential conflicts or accidents.
Respect other dogs and their owners. Remember that not all dogs will get along, so be prepared to intervene if necessary. Additionally, don't bring toys or treats that could cause fights or competition among dogs.
Follow any posted rules or regulations. Some dog parks may have specific hours, size or age restrictions, or other guidelines that you'll need to follow. Read them and see if it's ok for you and your friend.
By following these simple rules, you can help ensure that your dog park experience is a positive one for both you and your doggie.
Instinct (and Bacteria…) Are Always On the Play
While dog parks can be a lot of fun, it's important to be aware of potential risks and take steps to keep you and your dog safe. Here are a few safety considerations to keep in mind:
Make sure your dog is up-to-date on vaccinations. In a crowded environment like a dog park, diseases can spread quickly, so it's important to ensure that your dog is protected. Include Rabies, Leptospirosis, Lyme, Canine Influenza, and Bordetella.
Keep an eye out for aggressive behavior. While most dogs will be friendly and well-behaved, there's always the possibility of an aggressive dog or an altercation between them. Stay alert and be prepared to intervene if necessary.
Bring plenty of water and shade. Dogs can easily become dehydrated in the heat of the sun, so be sure to bring plenty of water and a shady spot for your dog to rest.
Know your dog's limits. If your dog is not well-socialized or is easily overwhelmed, it may be best to avoid dog parks altogether. You can still provide your dog with plenty of exercise and socialization in other ways, such as on walks or playdates with other dogs.
By taking these precautions, you can help ensure that your dog stays safe and healthy while enjoying the benefits of a dog park.
Benefits of Visiting a Dog Park
So, why visit a dog park in the first place? There are many benefits for both dogs and their owners, for example:
Exercise: Dogs need plenty of physical activity to stay healthy, and a dog park provides the perfect opportunity for them to run, jump, and play.
Socialization: Dogs are social animals. They benefit from interaction with other dogs and people. A dog park is a great place for our furry friends to meet new doggies and learn important social skills.
Reduced anxiety: Many dogs experience anxiety or stress when left alone or separated from their owners. A dog park can help alleviate this by providing a fun and stimulating environment for them.
Bonding with your dog: Visiting a dog park is a great way to spend quality time and strengthen your bond. You'll both have fun and enjoy the benefits of fresh air and exercise.
Meeting other owners: Dog parks are also a great place to meet other owners and make 2×1 friends. You can exchange tips and advice, and even arrange playdates outside of the park.
All of these benefits make a dog park an excellent choice for both sides of the pack, who are looking for a fun and healthy activity.
 Frequently Asked Questions (FAQs)
Here are a few answers to some common questions about dog parks:
Are dog parks always free? No, not all dog parks are free. Some private or membership-based dog parks may charge a fee for entry.
Can all dogs go to a dog park? Not necessarily. Some dogs may not be well-suited for the dog park environment due to anxiety, aggression, or other issues. It's important to know your dog's temperament and limits before visiting a dog park.
How do I find a dog park in my area? Many cities and towns have dedicated dog parks, and you can often find information on these parks through your local parks and recreation department. You can also search online for dog parks in your area or ask other dog owners for recommendations.
Unleash the Fun!
Visiting a dog park is a great way to provide your dog with exercise, socialization, and stimulation. By following the rules and guidelines of the park, as well as taking the necessary safety precautions, you can ensure that your dog has a great time and stays healthy and safe.
So what are you waiting for? Grab your furry friend and head to the dog park for a fun and quality-time experience.
By Alonso Ruíz
References:
1.Dog Parks | Member to Member | Parks and Recreation Magazine | NRPA 
2.NRPA Park Pulse: Americans Agree Dog Parks Benefit Local Communities | Research | Parks and Recreation Magazine | NRPA
3.Should My Dog Go To The Dog Park? Dog Park Etiquette Tips (akc.org)