Miami Gardens is a hidden gem located in the northern part of Miami-Dade County, Florida
This vibrant city is home to several exciting attractions and a diverse cultural scene, making it a popular destination for tourists seeking fun and adventure. In this travel guide, we'll explore the top things to do, and provide insider tips on the best places to stay, eat and explore.  
This city has it all: from sports, culture, and cuisine to nature, history, and entertainment. Located just a few miles north of Miami, this city has something to offer for everyone. Whether you're a sports enthusiast, foodie, or history buff, Miami Gardens will not disappoint you.
The Stadium, Food and Fun Activities…
Visit the Hard Rock Stadium
If you're a sports fan, visiting the Hard Rock Stadium is a must-do activity. This iconic stadium is home to the Miami Dolphins football team, the Miami Hurricanes college football team, and has hosted several major sporting events such as the Super Bowl, college football championship games, and international soccer matches.
Inside the stadium, you can take a guided tour and explore the locker rooms, field, and other behind-the-scenes areas. You can also catch a football game or other sporting events, such as concerts and festivals, held throughout the year.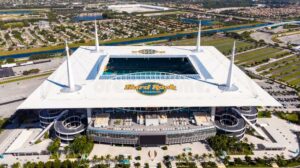 Explore the Ancient Spanish Monastery
The Ancient Spanish Monastery is a historic gem tucked away in Miami Gardens. Originally built in the 12th century in Spain, it was dismantled and shipped to the United States in the early 20th century, where it was reassembled.
Today, visitors can explore the stunning architecture, including the gardens, cloisters, and chapel. You can also attend concerts and special events held throughout the year, including the popular Medieval Festival. You can even rent the place and have a wedding in a colonial style.
Experience the Miami Dolphins Training Camp
If you're a football fan, the Miami Dolphins Training Camp is an exciting opportunity to watch your favorite players in action. The training camp is open to the public and provides a behind-the-scenes look at how the team prepares for the upcoming season.
You can watch the players practice, get autographs, and even participate in football-related activities. The training camp usually takes place in late July and early August, so be sure to check the schedule and plan accordingly.
Take a Stroll at the Betty T. Ferguson Recreational Complex
The Betty T. Ferguson Recreational Complex is a great place to spend a relaxing afternoon. This sprawling park boasts several amenities, including a lake, walking trails, picnic areas, and sports fields. You can also attend concerts, festivals, and other special events held throughout the year, such as the annual Jazz in the Gardens music festival.
Shop at the City's Best Malls and Shopping Centers
Miami Gardens has several shopping centers and malls where you can indulge in some retail therapy. The Westfield Broward Mall, located just a few miles south of Miami Gardens, is a popular destination that boasts over 100 stores, a food court, and a cinema. The Dolphin Mall, located a few miles north, is another popular shopping destination that features over 240 stores, restaurants, and entertainment options.
Visit the Calder Casino
If you're feeling lucky, the Calder Casino is a great place to try your hand at gambling. This casino features over 1,100 slot machines, table games, and a poker room. You can also dine at one of the on-site restaurants, attend live entertainment events, and take advantage of the casino's loyalty program.
Indulge in the City's Food Scene
Miami Gardens has a diverse food scene that features a variety of cuisines, from Caribbean and Latin American to American and international. Some of the must-visit restaurants in the city include Chef Creole Seafood and Catering, Miami Grill, and El Rinconcito Latino.
The must-stay places to pass the night in Miami Gardens
Stadium Hotel
The Stadium Hotel is a popular choice for travelers looking for a convenient and comfortable place to stay. Located just steps away from the Hard Rock Stadium, this hotel features spacious rooms, a pool, and a fitness center.
Courtyard Miami Lakes
The Courtyard Miami Lakes is another great option for travelers looking for a comfortable and convenient place to stay. Located just a few miles north of the city, this hotel features modern rooms, a pool, and a fitness center.
Shula's Hotel and Golf Club
For a more luxurious stay, consider Shula's Hotel and Golf Club. This hotel features elegant rooms, a spa, and a golf course designed by football legend Don Shula.
Less Humidity, a Mild Climate, When?
The best time to visit the area is between December and April when the weather is mild and dry. However, this is also the peak tourist season, so be prepared for higher prices and larger crowds. 
If you're looking for a more affordable and less crowded time to visit, consider traveling during the summer months, although be prepared for hotter and more humid weather.
To Get a Car is the Best Option
The best way to get around here is by car, as the city is spread out and public transportation options are limited. You can rent a car at Miami International Airport or at one of the many car rental agencies located throughout the city.
Come Back, There Is Always Something to See!
Miami Gardens is a vibrant and exciting destination that offers a variety of activities and attractions for tourists. With this comprehensive travel guide, you're now equipped with all the information you need to plan your perfect trip.
By Alonso Ruíz