Introduction
In the world of gymnastics, there's one name that shines brighter than the rest – Simone Biles. She's not just a gymnast; she's a force of nature, defying gravity and redefining greatness in the sport.
Simone's journey from a young girl with a passion for gymnastics to becoming an Olympic champion and a symbol of resilience is nothing short of remarkable. In this article by Wellix, we delve into the life and career of Simone Biles, a gymnastics legend whose impact on the world of sports is immeasurable.
Early Years
Simone Biles was born on March 14, 1997, in Columbus, Ohio, and from the very beginning, her parents recognized her boundless energy and enthusiasm. Ron and Nellie Biles, Simone's parents, encouraged their daughter's love for gymnastics, recognizing her extraordinary potential from a young age. Growing up in the vibrant gymnastics community of Columbus, Ohio, Simone's journey began when she stepped into a local gymnastics gym. Little did anyone know that this moment would mark the beginning of a transformative career.
Her early years in gymnastics were marked by rapid progress and numerous victories in junior competitions. It was clear that Simone was destined for greatness, and her journey was only just beginning.
Rising to Prominence
As Simone Biles transitioned to the senior level of competition, her star continued to rise. She showcased her exceptional skills on the global stage, consistently leaving audiences and judges in awe. Her incredible performances at events like the World Championships solidified her status as a gymnastics sensation.
What set Simone apart was not just her talent but also her unparalleled work ethic and dedication to perfecting her craft. Her routines were a testament to her commitment to excellence, and she continued to amass an impressive collection of medals and titles.
Olympic Triumphs
Simone Biles' Olympic journey is the stuff of legends. At the 2016 Rio Olympics, she captured the world's attention with her gravity-defying routines and remarkable poise under pressure. Her performances earned her multiple gold medals, including the prestigious all-around title.
On those games, she clinched a remarkable four gold medals, including the prestigious all-around title, as well as gold in the vault, team, and floor exercise events. Her incredible performances earned her the nickname "The GOAT" (Greatest of All Time) in gymnastics.
Four years later, at the Tokyo Olympics, Simone once again displayed her greatness. Despite the immense pressure and the weight of expectations, she performed with astounding skill and composure.
During the Tokyo Olympics, Simone secured two more gold medals, one in the team event and another in the balance beam. Her extraordinary achievements in two consecutive Olympic Games solidified her legacy as one of the greatest gymnasts in Olympic history.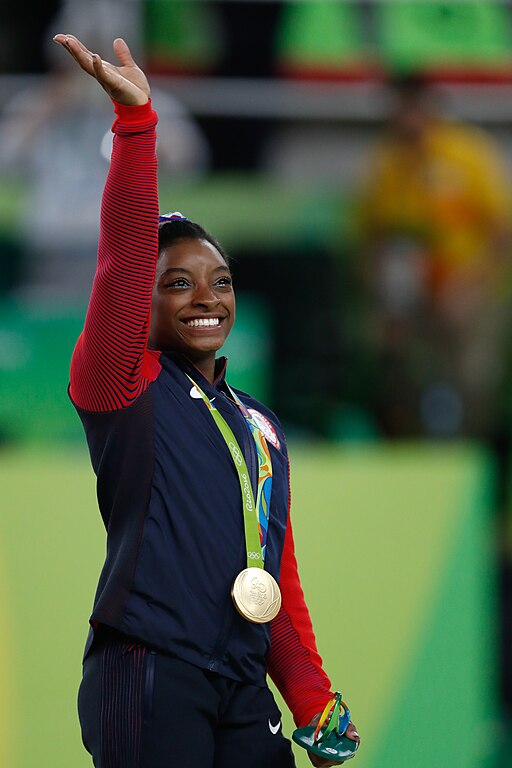 Overcoming Adversity
While Simone Biles' triumphs are celebrated worldwide, her journey has not been without its share of challenges. In a courageous and honest move, Simone opened up about her struggles with mental health during the Tokyo Olympics. She made the difficult decision to withdraw from certain events to prioritize her well-being.
Simone's decision sparked an important conversation about the mental health of athletes. Her willingness to speak out and put her mental health first has had a profound impact on the sports world. It sheds light on the immense pressure athletes face and the importance of providing support and understanding.
The Simone Biles Effect
Simone Biles' influence reaches far beyond the gymnastics arena. She has become a role model for young athletes worldwide, inspiring them to pursue their dreams fearlessly. Her advocacy for mental health awareness has ignited a larger conversation about the well-being of athletes at all levels.
Her resilience and determination have shown that success is not just about medals and records but also about personal growth and well-being. Simone has become a symbol of strength, both physically and mentally, and her legacy will continue to inspire generations of athletes.
Legacy and Future
As Simone Biles looks towards the future, her legacy is secure. She has left an indelible mark on gymnastics and sports as a whole. Her impact on discussions surrounding mental health in athletics will undoubtedly lead to positive changes in how athletes are supported.
While we can only imagine what the future holds for this gymnastics legend, one thing is certain – Simone Biles will continue to defy gravity, inspire greatness, and shine as a symbol of resilience for generations to come.
Now in 2023, she has returned to the game. Winning the World Artistic Gymnastics and making peace with herself she has shown us how to deal with our fears and demons. Ready to take the stage by her own rules, we know she is one of the best of all time.
Conclusion
Simone Biles' journey from a young gymnastics enthusiast to a global sports icon is a testament to her unparalleled talent, unwavering dedication, and remarkable resilience. Her triumphs at the Olympics and her willingness to speak out about mental health have cemented her legacy as one of the greatest athletes of our time.
Simone Biles has not only redefined greatness in gymnastics but also sparked a vital conversation about the well-being of athletes. Her impact on the world of sports will endure, and her story will continue to inspire countless individuals to reach for the stars, just like she did.
References
1. Simone Biles | Biography, Olympics, Medals, & Facts | Britannica
2. Simone Biles| Official Site
3. Simone Biles wins women's all-around final to secure record 21st world championship gold medal | CNN
by Alonso Ruiz